Samsung Galaxy Note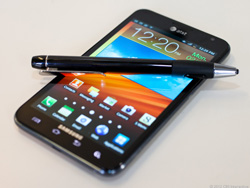 The launching of Samsung Galaxy Note instantly initiated a very healthy debate as this 5.3-inch Android Smartphone, which we will surely term smablet because of inherent tablet features, became the center of attraction for gizmo enthusiasts. Some people simply love to critic flawless products and services, and it seems that besides vested interests, they are born to hate things. However, there are many people who love this device for the brilliant display. I am going to provide an unbiased review and consider all the smart features of this device, including those that are not much discussed. If we are not using the new features provided by the phones, then we are not using them to their full potential and in the long run don't get the best experience for which the phones are designed for and need to be more technology savvy.
Galaxy Note is one of the best android devices ever launched by Samsung and boasts with a huge 5.3-inch display. Once you get addicted to the big yet the brilliant screen of Galaxy Note, you will find it extremely hard to be contended with small screens. Besides being a very fast device, the battery life of Galaxy Note is phenomenal as it is powered by 2500 mAh lithium-ion battery. Looking at the big-screen size you might get the impression that the battery life would be terrible, but I was personally surprised to find out that despite streaming Money Masters for 3.5 hours in full-screen mode over the 4G network, my Galaxy Note still showed thirty percent remaining battery life. This is impressive by any standards for a normal-sized Smartphone.
You are certainly going to love Galaxy Note as it lets you read websites and mails without the need to pinch and zoom repeatedly. People with bigger fingers can quite easily operate this device. You can also feel confident amid your friends who show off their iPhones.
Speedy 4G/LTE
The Galaxy Note supports a blazingly fast speed of 4G/LTE, depending on the carrier and the network. The several speed tests provided average downloading speed of 16.4 MB and 9 MB uploading speeds. The fast speed ensures that there is no waiting time for web browsing.